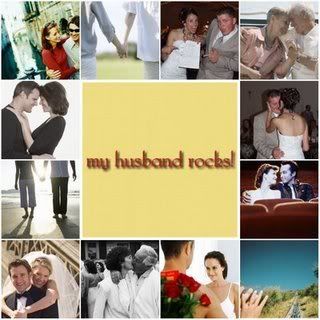 My husband is pretty darn amazing all around... really. He makes me laugh, makes me melt, makes me sure, and makes me proud. He's not perfect... there are things about him that drive me NUTS and that i pray God to touch... but he makes me happier than anyone else ever has and ever could, and i know that God directed our lives just so we would find one another.
The think i want to highlight this week though... is the fast that he's in the United States Navy. This past weekend we celebrated the Commissioning of his ship... the ship he is stationed to... the George H.W. Bush. It was a huge event... justin's 2 sisters, mom, and niece all came from Iowa, families flooded the area, and when the day came... 20,000 people attended the ceremony. As i sat there with my Mother In Law and sister in laws and watched our men line the deck and salute those of us who might not be IN the military, but who live the life and sacrifice all the same... i couldn't help but be so proud.
I honestly don't like the military all that much... i'm glad that some people like it, and support our troops with all my heart... but i hate living the life myself. but on saturday... i felt so great knowing that we were a part of this huge group that makes this country work, that promotes unity, and shows the world what we stand for. I couldn't see my husband... but i imagined him standing on that flight deck at attention and saluting. and i was so proud... he has done something i never could. He pushed himself through Boot Camp, he gets up at 5am every day and goes to a job where he is demanded to show respect to others... while he himself gets very little respect... he works around a loose and ever-changing schedule... and he sacrifices time with his family to go out and move the ship forward with time out to sea. He has even decided to live out here alone... so that we can invest in a home, and i can go and finish school. it breaks my heart... but trust him.
He is an amazing man... he loves me, he loves our son, and he loves this country. I absolutely adore him. :)