oh my! SO MUCH to write about!
* we are getting out of the military... kinda. :)
Justin will no longer be active duty Navy after July 18th, 2010 and will go directly into the Navy Reserve. He gets paid little, but enough to cover the reserve's family health-care. (which means we can have another baby!!! :D ) He plans to attend college in the fall, either at Indian Hills for Digital Forensics, or Central College for Physics. YIKES! He's such a smarty pants. ;) Once he has his degree (or, if financially we need to, after i have my degree) we tentatively plan to have justin go through a program offered by the reserves that will take him back into the Active Navy as a career recruiter! PERFECT!!!! limited cruises, and more options as far as duty stations! He would spend the rest of his military career as a recruiter, which is more of a 9 to 5 type of job. Home almost every night, and the possibility of being stationed somewhere OTHER than the coast! AMAZING!!!! But the next 4 years or so could get interesting... financially. But i have peace that God will lead and provide.
Justin and i on the ship May 1st, 2010
* I AM DONE WITH SCHOOL FOR THE YEAR!!!! WOOT! Done with all the Gen. Eds. and moving on to Central College next fall! I can't wait!!!! i'm also excited for SUMMER... just spending time with my son, going swimming, and reading, and grilling out and JUSTIN COMING HOME IN JULY! YAY!
*i am looking for another part-time job... "good luck!", yeah i know. :S but the place i'm working now is just not working out real well. I plan to stay there and continue working Fridays, but i need something PART TIME, like go in at 2pm and close, or go in at 8am and am off by 2pm or 4pm. With no spouse to back me up, and with a family that has just about killed themselves through the school year helping me... i need something with shorter days than 8am to 8pm. ridiculous. Plus, they seem to try their best to make me feel guilty about taking time off. ok... i've requested 4 DAYS OFF IN THE LAST 7 MONTHS. and all those days were to be with my husband either right after he came home from a 9 month deployment, or to go out and go on his ship's Family Day Cruise. I've missed family things. I HAVE left work only, but ONLY when i'm told i can. I've not gone in on scheduled days, but only after getting a call from my boss telling me not to because of the small amount of appointments. :S and then she's griping. i don't like it... and it's not working out. They all (my boss and the other photographers) have husbands there every day or the money for childcare, OR no kids at all. So i don't know. :S
* Nathaniel is TWO YEARS OLD!? when did that happen??? I'm the mom of a 2 year old??? ugh... i feel old. ;) looking forward to giving him a baby brother or baby sister though. We'll seeeeeeee... :) Won't really start trying til August or September because we're trying to kinda schedule it around school... but we're excited.
Nate and Daddy going down the slide at the park while justin was home on leave...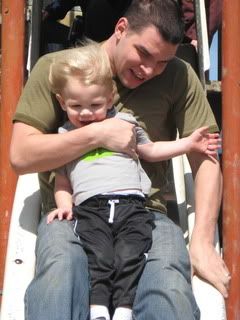 SO theres all our news...