Well, my sweet friend Katy awarded me a blog award! i haven't been on here long, but i've enjoyed SO MUCH getting to know her, and many other friends better through their blogs! :D i live in Virginia, and so most of my friends live in iowa... so i miss out on lunches and get-togethers. But THANK YOU, Katy! I feel so special to know you consider me a good friend!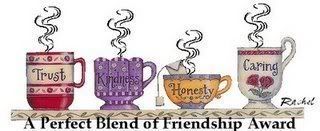 This award comes with a questionnaire:
1. Do you have the same friends since childhood?
Some... i have one friend whose parent's went to the same birthing class that my parents went to! I was homeschooled though, so i didn't have a TON of friends, but the friends i did have are still dear to me, yes and i keep tabs on them. :)
2. What do you value most about your friends?
I value friends who are honest, and take the time a good friendship demands. i love friends who understand the idea of "give and take"... i also value easy-going attitudes in my friends... i hate drama!
3. Are your friends your sounding boards?
All the time! i'm very indecisive... and a second guesser. :S i need the wisdom of my friends in a lot of big decision i make.
4. What is your favorite activity to share with your friends?
Watching movies, singing, and eating... :) i love friendships that are so comfortable you can sit and watch pointless TV and movies with... not saying anything, not forcing any kind of conversation, just sitting and relaxing... yet when you go your separate ways, you feel like you've still sat down and poured your heart out to them...
I'm also supposed to share this award with 4 other friends... :)
Ashley, at Jaded Mission
Dana, at Paper Memories
Britt, at Quietly Chaotic
Breanne, at Glimpse
LOVE YOU LADIES!!!!! Thank you again, Katy! You are all so special to me!